Clinical Supervision
I am an experienced, qualified supervisor and gained the Diploma in Supervision (WPF) in 2003. I supervise individuals and groups of clinicians (psychodynamic counsellors; psychotherapists; Jungian Analysts) at different stages of their career including trainees, those seeking accreditation / senior membership. I also offer 'supervision of supervision' to colleague supervisors.

I was a long standing member of BAPPS (British Association for Psychoanalytic and Psychotherapeutic Supervision) and co-edited the BAPPS publication "Supervision Review" for a number of years.


The meeting of two personalities is like the contact of two chemical substances: if there is a reaction, both are transformed. Carl Jung
Dissertation supervision
I have been a dissertation tutor/ supervisor for a number of counselling and psychotherapy trainees and students undertaking MSc dissertations

Writing, Teaching & Tuition
I have taught on training courses for trainee counsellors, psychotherapists, Jungian Analysts and MSc students.

I have a particular interest in working with and exploring issues concerning:- identity; difference (racial, cultural, class, sexuality and gender); sensitivities arising from early trauma; the erotic transference; dreams, creativity and spontaneity.


Supervisory Approach
My theoretical orientation and clinical practice draws upon the traditions of psychoanalytic and Jungian analytic theory; post Freudian and post-Jungian developmental understandings as well as recent research in other fields such as neurobiology, attachment, relationships and trauma.

My approach to supervision seeks to facilitate the development of the supervisee's potential and individual style within a clear framework of professional and ethical standards and with a specific focus upon the clinical needs of the patient. This model of supervision is more akin to mentoring or midwifery than cloning and means both supervisor and supervisee are actively engaged in the process. I believe supervision needs to feel safe enough to allow a sense of collaborative exploration and the emergence of new possibilities and in consequence means that both parties may well be changed by the experience. The roles within the supervisory process are different but of equal importance; the supervisor usually brings a more objective overview and greater experience; the therapist in contrast brings vital subjective experience and insights gained from direct contact with the client.


"Clay is moulded into a pot, But it is the emptiness that makes it useful."
Lao Tzu (7th – 4th B.C.)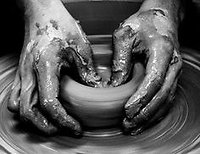 Supervision like Lao Tzu's clay pot in the above quotation is paradoxical; it needs structure and shape to contain the process but in order to be truly useful it requires space. Within this space anxiety, ambivalence and uncertainty can be tolerated; this provides a context in which ideas can be played with freely enabling creativity, learning and the elaboration of meaning.

Winnicott speaks of psychotherapy taking place in the "overlap of two areas of playing, that of the patient and that of the therapist." Similarly, I believe supervision occurs in the overlap of two areas of playing; that of the supervisor and the supervisee. Creative play in supervision needs a trusting relationship because such exploration occurs on a "knife-edge" between subjective and objective perceptions which is both precarious and exciting.

In order to play with different viewpoints a third position is required. Britton argues that this "triangular space" - inextricably linked with the oedipal situation and the depressive position - provides us with the capacity of "seeing ourselves in interaction with others and for entertaining another viewpoint while retaining our own," . Both Winnicott and Britton are speaking of the mediation of opposites, and in Jungian terms this polarity is bridged by the transcendent function. A symbol emerges – an intuitive idea which cannot yet be formulated in any other way - and offers a third perspective from which to view the opposites and in so doing expands consciousness and aids the individuation process.

"It is in playing and only in playing that the individual child or adult is able to be creative and to use the whole personality, and it is only in being creative that the individual discovers the self."
Donald Winnicott, Playing and Reality